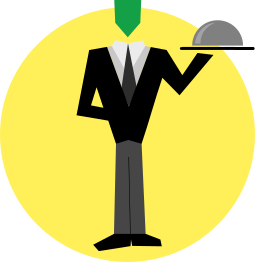 Mr. Piles
Personal bookmark butler
---
Always, Anywhere
Mr. Piles is always there for you, in any browser you like. Mr. Piles doesn't mind whether you use Windows, MacOS, Linux, Android or iOS. He just ensures you have your bookmarks with you.
Lightweight
Mr. Piles isn't a heavy person, and he's proud of it too. Mr. Piles is small and responsive and offers his services on mobile devices just as easily as on regular computers.
Customizable
Mr. Piles knowns looks are important. He lets you customize colors and backgrounds to make you feel right at home.
Free
Unlike regular butlers, Mr. Piles offers his services completely free of charge. Of cource he can be made happy if you offer him a coffee.
---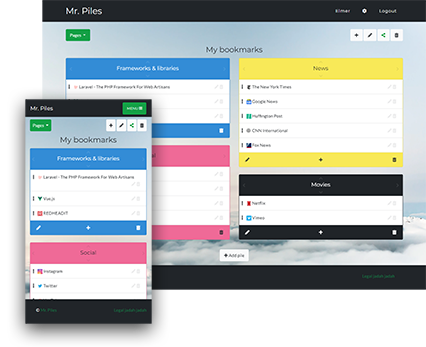 Features
1-2-3-4 column layouts
Customizable and colorfull
Automatic title suggestions
Automatic favicons
Customizable page backgrounds
Import/export bookmarks
---
Sharing
All bookmarks are private by default
Share any page
URL access to shared pages
Share bookmarks with your friends and colleagues
Mobile
No mobile app required
Use piles.app in your mobile browser
Optimized for all screen sizes
iOS and Android fully supported